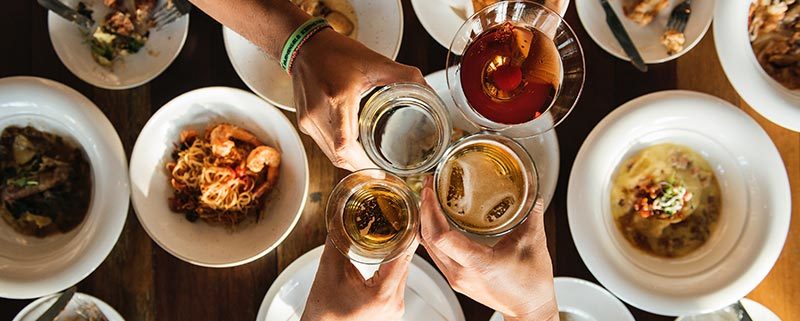 Group Dining Tips from Mexico & Florida Restaurants
Dining out with friends and/or family can be a blast: It can also be surprisingly stressful, given the logistics involved. Here at V&E Restaurant Group, our Miami, Las Vegas, and Mexican eateries commonly host large parties—many are beautifully set up for group dining, including private affairs.
We thought we'd share some basic group-dining etiquette and wisdom to make planning that communal meal out—whether a birthday party, a goodbye bash, a business feed, or any other context—smoother and less anxiety-inducing.
Consider the Food Preferences & Limitations of Each Diner
It's irresponsible (and, ultimately, disrespectful) to choose a restaurant whose menu excludes somebody in your dining party who might have dietary restrictions. Take the time to establish such needs in advance so you can decide upon an eatery where everybody will have something they can order.
Plan Ahead When it Comes to the Bill
Surely the most chronic hiccup when it comes to group dining at restaurants is handling the bill. There may be some heavy-duty awkwardness if some in attendance didn't expect to chip in, or if the game plan was to split Even-Stevens-style yet some in the party indulged substantially more than others. You also want to think of the potential burden on the establishment itself: Brandishing a dozen or more credit cards in the face of your server, especially if you haven't already relayed how the bill will be split, is a lousy practice, and may be against restaurant rules to boot.
So call ahead and find out how the eatery in question handles group bills, and certainly make clear ahead of time how your party wants to divvy things up (or not, if there's a generous deep-pocketed person among you). Generally speaking, bringing along plenty of cash so you can avoid multiple pieces of plastic is a good strategy.
Stay Cognizant of Tipping
It's easy to lowball a tip for your server when a bill's being split; it's also easy to double-tip if you haven't noticed that your size party has warranted gratuity already added to your bill.
Touch Base With the Restaurant Ahead of Time
More likely than not, you'll be making reservations in advance if you're coming to a place with a large group. If you're not, be aware a particular eatery may or may not be able to accommodate your party on short notice. Whether an establishment takes reservations or not, it's a good idea to call ahead and find out what the logistics are like for group dining. It's often easiest on you and on the restaurant to simply reserve a semi-private dining room or nook, if that's an option.
https://vehospitality.com/wp-content/uploads/2019/04/celebrate-celebration-cheers-1268558.jpg
321
800
admin
https://vehospitality.com/wp-content/uploads/2023/08/VE-Logo-Hospitality-Group-comprese-new.png
admin
2019-04-09 15:15:43
2019-04-09 15:42:31
Group Dining Tips from Mexico & Florida Restaurants