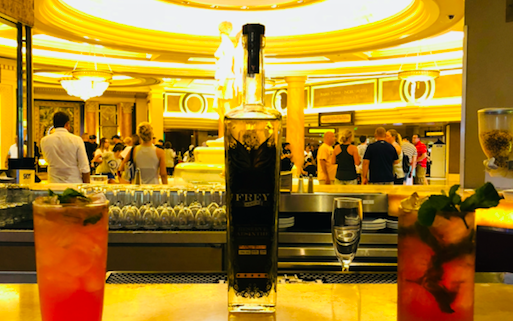 Café Americano Launches ABSINTHE Inspired Cocktail, "The Gazillionaire"
Café Americano at Caesars Palace Curates a Locally-Sourced Absinthe Cocktail in Partner-ship With The Gazillionaire of ABSINTHE
LAS VEGAS – 24-hour Caesars Palace hot spot, Café Americano has curated a new whimsical cocktail, "The Gazillionaire," inspired by the host and producer of Las Vegas' most in demand production, ABSINTHE, which performs nightly inside a wondrous and restaurant adjacent Spiegeltent at the foot of the center Strip property.
Mixologists spent months crafting the perfect beverage that would make sense for the show, and they finally came up with a concoction that would prepare show attendees for the side splitting debauchery they were about to witness next door.
This cocktail is mixed with a locally sourced Absinthe spirit from Frey Ranch, Nevada. The Gazillionaire contains a careful blend of 11 herbs including both Pontica and Grand worm wood that are distilled and soaked for 35 days to achieve a perfect blend of flavors. The gentle extraction of herbal oils creates a natural green hue, making it magical enough to consume before a daring night out attending ABSINTHE.
The ingredients of The Gazillionaire cocktail are as follows:
1 sugar cube
6 mint leaves.
1.5 oz 4 roses
1 oz fresh lime juice
3/4 oz simple syrup
2 dashes of absinthe
3 dashes of bitters
"The Gazillionaire" cocktail can only be found on Café Americano's newly revamped We Love Cocktails menu that contains fourteen specialty cocktails, all available 24-hours a day, seven days per week.
Café Americano is currently offering 10% off appetizers and entrees, as well as a complimentary dessert for guests who present a same day ticket to ABSINTHE. With a recently expanded performance schedule, ABSINTHE performs seven nights a week, with showtimes at 8:00 p.m. and 10:00 p.m. For tickets and more information visit Spiegelworld.com/ABSINTHE.
To learn more about Café Americano, visit www.cafeamericanovegas.com.
About Café Americano
Open 24 hours a day, 365 days a year, Café Americano serves classic American fare all day and all night. Whether it be breakfast, lunch, dinner, or something from the late night menu, you can savor food and drinks made all fresh, all the time. Guests of Café Americano can enjoy a contemporary and relaxed atmosphere located in the main lobby of Caesars Palace. Relax in the main dinning room highlighted with warm inviting tones and cool wooden accents. Pull up a seat at Café Americano's lively bar and watch as expert mixologists create quality and handcrafted cocktails. Café Americano prides in breakfast, lunch, dinner, and late night menus that focus on providing patrons with fresh food all the time. Enjoy classic American dishes as well as some Latin fare made with high quality ingredients at all hours of the day. Our chefs work as a team to provide guests with ultimate freshness and flavorful cuisine. Café Americano knows that a great meal is more than just about the food or wine, but also about creating a memorable and pleasant experience. Our experienced staff is professional and attentive, giving each and every guest a unique and personable experience. Each member of our staff is extremely knowledgeable about all menu items and can easily help you find the dish you are looking for.
Like Café Americano on Facebook www.facebook.com/cafeamericanolv, follow them on Twitter www.twitter.com/cafeamericanolv or on Instagram www.instagram.com/cafeamericanolv.
About ABSINTHE
Proclaimed "The #1 Greatest Show in Las Vegas History" by Las Vegas Weekly, and named "Best Show" by Vegas SEVEN, the Las Vegas Review Journal and more, ABSINTHE at Caesars Palace is an adults only circus variety show featuring a cocktail of wild and outlandish acts in a theatre-in-the-round presentation. Audiences are treated to a night of imagination and excess, as the cast of eccentrics perform amazing feats of strength, balance, danger and unfathomable flexibility within mere feet of the audience surrounding the intimate stage. For tickets and more information, visit Spiegelworld.com and connect with The Gazillionaire and his show on social media @AbsintheVegas on Facebook, and @GazillionaireLV on Instagram and Twitter.
Full Article at: https://www.nevadabusiness.com/2018/09/cafe-americano-launches-absinthe-inspired-cocktail-the-gazillionaire/
https://vehospitality.com/wp-content/uploads/2019/05/Nevada-Business.png
638
513
admin
https://vehospitality.com/wp-content/uploads/2023/08/VE-Logo-Hospitality-Group-comprese-new.png
admin
2019-05-01 17:11:22
2019-05-01 17:11:22
Café Americano Launches ABSINTHE Inspired Cocktail, "The Gazillionaire"