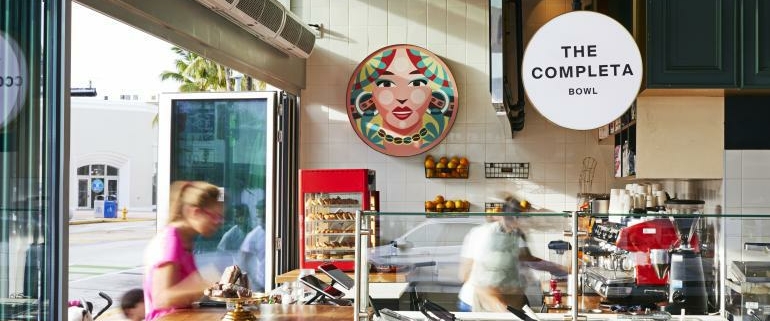 Improving profitability during tough times
Multi-concept operator says restaurants can take steps to succeed*
As inflation, supply chain issues, and labor shortages continue, restaurant operators might find that these challenging times can inspire innovation. By developing new menu items, partnering with vendors, and looking for efficiencies, food service establishments can do more than just survive in the current environment. They can improve profitability while also offering guests a high-quality experience.
Rising costs are on everyone's mind these days. "The reality is that inflation has eroded a significant portion of the wage increases that were gained post-pandemic," says Matías Pesce, CEO of Miami-based V&E Restaurant Group. "We do our best to be in touch with consumer behavior adjustments."
Menu engineering
One adaptation is that consumers still want to dine out, but now they are looking for value. For V&E Restaurant Group, which owns and operates 20 restaurants and 1 hotel in Miami and Las Vegas, that presented an opportunity to develop new menu items that offer a quality-oriented experience at an affordable price.
At Mercato Della Pescheria, the $24 Lunch Special is a three-course meal that includes selections among all-time favorites such as Salmon Tartar, Jumbo Shrimp Scampi, Italian Pork and Beef Meatballs, and Fresh Florida Key Lime Pie for dessert. The Italian seafood concept sells over 30 of these specials daily.
At Marabu, recent introductions include the $18 Cuban Bowls, served with white rice, black beans and sweet plantains with Roasted Chicken, Ropa Vieja or Lechon Asado. The Coal-Fired Cuban Cuisine concept sells about 40 of these a day.
Pesce says these innovative menu items had strong sales because they feature on-trend ingredients, and answer consumer demands. "We must be responsive in our offerings to match affordability, taste, proper portion, and be disciplined with our costs to make it work for everyone," he says.
Offsetting increased costs
The challenge is that costs have been rising lately. One solution has been to reduce the complexity of core menu items. Having everybody on board, from kitchen staff to food vendors, is crucial. V&E's corporate chefs can rapidly react to ingredient shortages without impacting the quality of the menu and offerings.
The purchasing area also plays an important role. The culinary team works closely with suppliers to find solutions for day-to-day operations. "Partnerships with key vendors have been instrumental," Pesce says.
Supply chain constraints have posed a big challenge in foodservice post-pandemic. Sometimes ingredient substitutions have higher price points, and the establishment must battle higher-than-expected costs. The options are limited as the culinary team does not want to sacrifice flavor for value.
To overcome this challenge, V&E Restaurant Group partners with vendors to identify three pre-determined substitutes that are approved by the culinary team. For large distributors, the group developed a list of Top 86 items—with the 86 referring to the food service term for "unavailable"—and performs a weekly analysis that helps the team anticipate shortages and immediate substitutions.
Cutting costs, raising prices
Cutting costs is an ongoing, week-to-week challenge for V&E Restaurant Group and for the industry. The team monitors activity every week to ensure vendors are delivering on their promises, and compares vendor prices for the best deal that does not compromise quality and yield. The group leverages its size to the best extent possible, and seeks continuous improvements using technology both at the corporate office and restaurant locations.
"It has been said, a restaurant can die of a thousand cuts," says Albert Llodra, CFO of V&E Restaurant Group. "We don't get tired of reviewing those thousand ways to get cut."
As ingredient prices continue to rise, cutting costs is not enough to improve profitability. Commodity prices have increased 14% to 15% and wages increased around 5%, so the restaurants are forced to pass along some of those costs by raising prices once each year, or more if there are drastic increases.
After an increase in menu prices, the restaurants monitor traffic counts to understand the impact on guests. Fortunately, the restaurants are located primarily in tourist locations. "That helps us to an extent as consumers are prepared to spend more when traveling," Pesce says. "We don't take that for granted."
One of the keys to success at V&E Restaurant Group is to be mindful of guests and their expectations, and to offer menu items that match the concept and are trendy and innovative. "We anticipate the customer needs, understand our guest personas and the reason why they visit," Pesce says. "We provide them with a memorable experience and not only food."
https://vehospitality.com/wp-content/uploads/2022/10/Cortadito_061721_0185.jpg
400
770
admin
https://vehospitality.com/wp-content/uploads/2023/08/VE-Logo-Hospitality-Group-comprese-new.png
admin
2022-10-18 21:38:34
2022-10-18 22:06:23
Improving profitability during tough times