Cortaditos & Café con Leche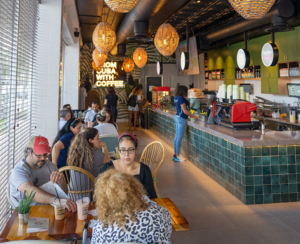 Looking at 12 months & over 270K guests visits at Cortadito Coffee House between Miami Beach & Coral Gables and specifically for the top two coffee ordered here is what we noticed:  35% of consumers ordered Cafe Con Leche while 20% had a Cortadito.

In the May edition of Food Business News, there is a dedicated ingredient trends story about boosting innovation with coffee & tea by contributing editor Donna Berry. The article provides interesting data about the innovation evolution and new trends that includes healthier options thru ingredients such as organic caffeine from green tea, green coffee & antioxidant boosts.
From feeling awake to part of a daily routine, helping to focus, relieve stress, coffee & tea are part of our daily lives. According to researchers mentioned in the article, natural caffeine has a longer and more consistent effect on mood and mental cognition vs synthetic caffeine while innovators are looking into coffee fruit juice & to include the  entire plant vs just the beans.

Cafe con Leche at Cortadito Coffee House is a go-to breakfast choice with options for milk from whole to almond, coconut & oat & temperature wise, frozen, Iced or hot as a choice.
As of Cortaditos, guests can always choose the type of milk, add extra shots of espresso & sugar or no sugar at all. 
As for recommendations, nothing to look at Cortadito reviews, here is one taken from Lauri N via Yelp that says:  "Chill vibe and great customer service! I ran over to grab some Cuban caffeine and wish I was visiting longer to try amazing looking food. Love the happy ambience- highly recommend a large cortadito with whole milk to get your day started!"
By. E Machado
 #
https://vehospitality.com/wp-content/uploads/2023/05/Cortaditos-Cafe-Con-Leche-thumb.jpg
574
705
admin
https://vehospitality.com/wp-content/uploads/2023/08/VE-Logo-Hospitality-Group-comprese-new.png
admin
2023-05-30 15:37:46
2023-06-06 18:45:59
Cortaditos & Café con Leche